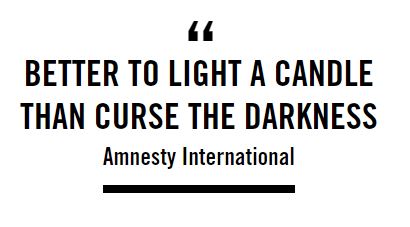 The global movement, Amnesty International have a focus on protecting human rights. UNESCO identify human rights as an important issue of sustainability. By allowing people to exist and thrive, communities can build over time.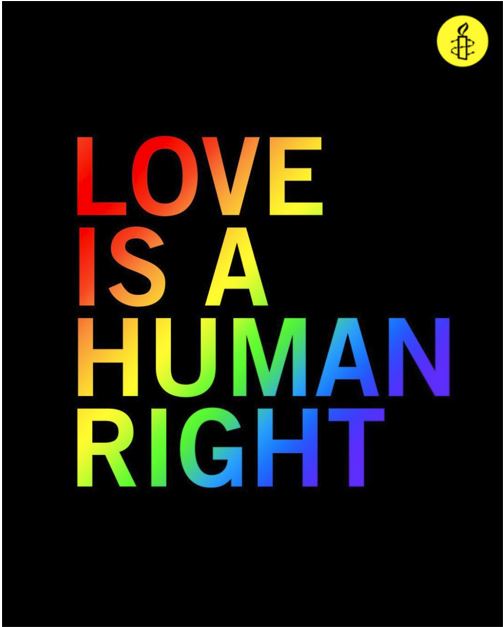 I liked the simplicity of this message by Amnesty. The rainbow colour pattern tells us that the message relates to LGBTQ+ rights without needing to tell us with text. This relies on the audience understanding the connotations of the rainbow as used in recent times to symbolise the LGBTQ+ community by convention. This results in a simple and concise image with more impact than over-cluttering the page.
---
Write for Rights is a yearly campaign and because of this, I found a variety of designs relating to this cause. I chose this campaign because it represents taking action for people who cannot take action for themselves. It is about achieving justice for people who have been wronged in a variety of ways. If I am fortunate enough to be able to read and write, I can use that skill for good.
Writing has the power to change the world – and Amnesty International is proud to include all in their efforts to do so. For the past 15 years, the organization's global letter writing campaign has inspired millions of written letters to support those whose basic human rights are being attacked. 

http://deweydivas.blogspot.com/2017/11/write-for-rights.html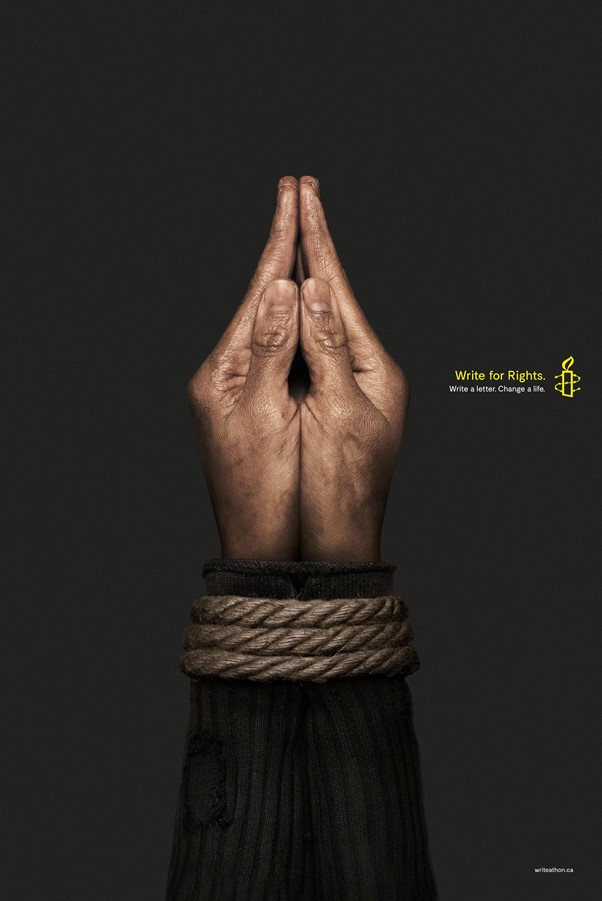 The simplicity is effective in this image , the contrast between dark and light, to me, signifies hope. The hands are reaching up as in prayer, asking for help. The dark background helps to highlight the hands and adds to the strength of the message. The size of the text is small, suggesting a whisper. The campaign is talking about people who cannot speak up for themselves. This makes the small text relevant and symbolic.
"The stark image shows a pair of bound hands that is meant to mimic the shape of a pen or pencil, and the ads read: "Write for Rights. Write a letter. Change a life." in English and "Écrire, ça libère. Participer au marathon d'écriture." in French.
The print campaign ran in top Quebec news publications, including: Le Devoir, Journal de Montréal and Journal de Québec. A web banner version was deployed on LaPresse.ca, in addition to wild postings in Montréal. And a 30-second French radio spot aired in the regions of Montréal, Québec City, Ottawa, Sherbrooke and Trois-Rivières in early December."
(below) The spacing of the text expresses the message clearly, to an audience who would be walking or driving past. The full-stop punctuation mark suggests a finality and an answer to the problem presented. The CTA here is the word 'write'.
The image surprises the viewer. At a glance, it appears to be a fountain pen. When doing a double-take, the viewer sees that the photo is of a pair of hands. This element of surprise makes the poster memorable.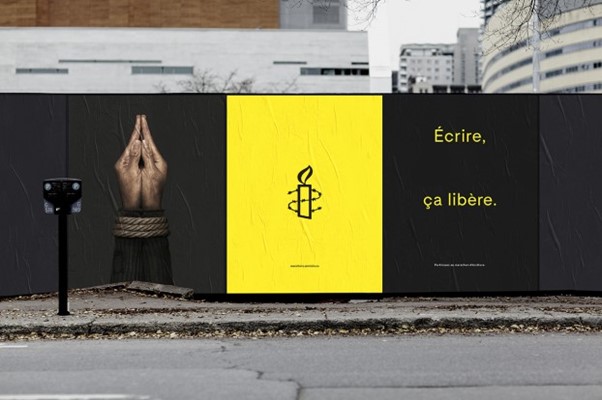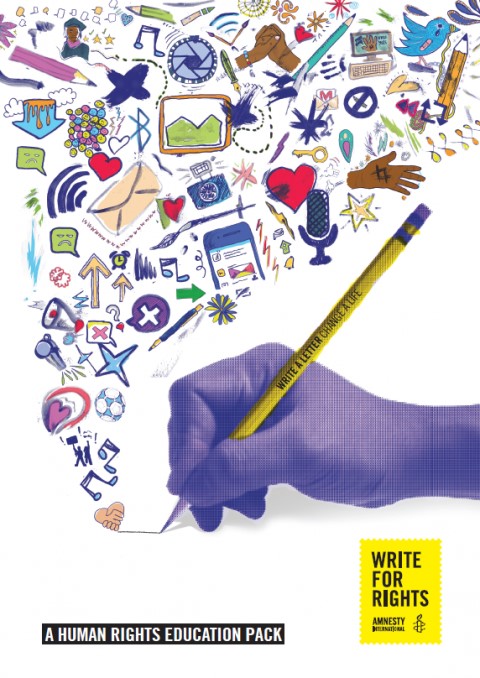 "This education pack contains five activities on human rights for young people. It can be used as an introduction to human rights, to global solidarity, to campaigning and activism, and to the wider work of Amnesty International. The activities provide a broad perspective on these issues and others.

They are useful in opening young people's minds to global concerns and involving them in actions which can have a real impact on people's lives."
This design from 2015, has been designed with young students in mind. The doodle-style illustrations reflect the imagination of the target audience. This design focuses on the positive impact of letter-writing, compared to the Canadian poster which emphasizes the suffering.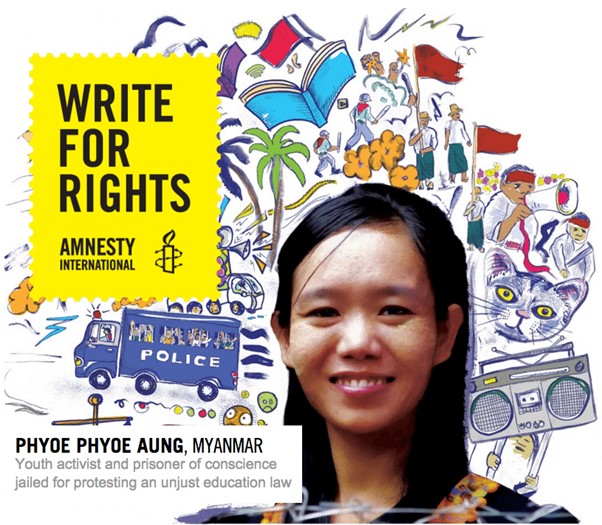 The Amnesty logo and name of the campaign are presented within a yellow box with edges that resemble a postage stamp. The above poster has been cropped for the cover of the 'education guide' booklet.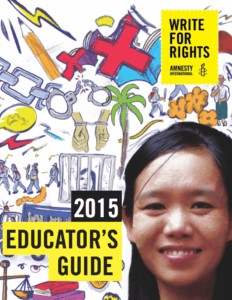 "Dear Educators,
Amnesty International USA invites you and your students to join Write for Rights, our global human rights letter-writing project focusing on 12 specific cases of human rights abuses around the world. Write for Rights frees prisoners of conscience, protects human rights defenders, and spreads hope.
Amnesty International USA has created an Educator's Guide, focusing on 5 cases including girls forced into marriage in Burkina Faso; a journalist imprisoned in Uzbekistan; and Albert Woodfox, subjected to over 40 years of solitary confinement in Louisiana. By learning about these 5 cases and writing letters to help end these abuses, students will gain an introduction to human rights and effective letter-writing skills, and the knowledge that their words have the power to make a difference around the world. We invite you and your students to participate from now through December."
https://www.adsoftheworld.com/media/integrated/amnesty_international_write_for_rights
"This vision was made possible by the valuable collaboration between Cossette and Owen Gent, a world-renowned illustrator based in the UK whose aesthetic is similar to painting. His drawings are luminous, vibrant and emotionally charged.
Integrated advertisement created by Cossette, Canada for Amnesty International, within the category: Public Interest, NGO."