We began the week by discussing with our tutors, what we hope for our future careers. This took the form of an informal presentation, where classmates were encouraged to get involved and think about specific design industries and studios.
This is an exciting time in the course. Suddenly the real world is on the horizon!
Reflections
I was happy to share my ideas with the group, however, what I realised is:
I don't really have a clear idea yet.
I might know what I admire in other's work, but I hope my path will become clearer as I continue to work on briefs and keep my eye open to new ideas.
I don't have much confidence in my work. For example, I can look at a beautiful editoral layout that uses experimental elements, but to believe that I am capable of anything nearly as inspiring?
I know at least one thing. That the morals and ethics are number 1 for me. That art, healthcare and education are the topics I am most passionate about if I had to narrow it down.
The group was smaller in size today. I enjoyed this experience much more because I got to hear from every individual. I felt more involved and enjoyed participating in discussions. I like being able to offer advice to others and be supportive.
Researching studios could really be an endless task! I'm sure if I continued to research it would influence me further.
Below is a PDF of my presentation slides:
I realised afterwards that I never mentioned printmaking, but printmaking is normally used as part of an illustrators process, rather than a discipline in itself.
We discussed that what I may be more interested in is the concept itself, as in creative direction.
Sketchbook Logotype Experimentation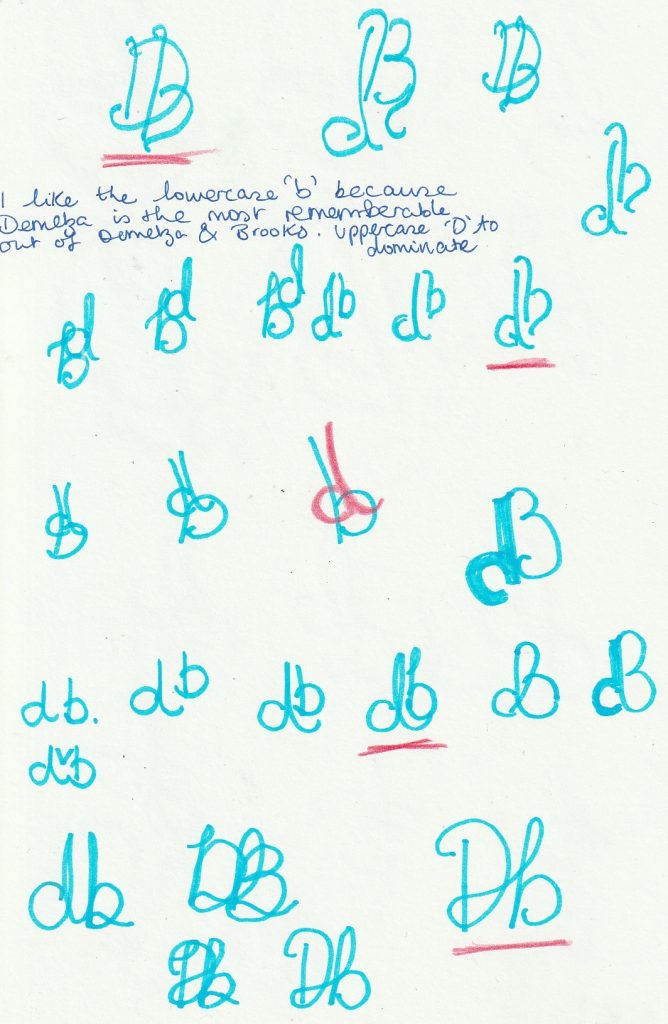 This week, I continued to experiment with monograms in my sketchbook. I used a felt tip pen to sketch these ideas. I then took 4 of these ideas forward and drew them using a paintbrush and purple ink. (The purple had no significance, I used it because I wanted a dark colour for contrast and couldn't find the black ink at home.)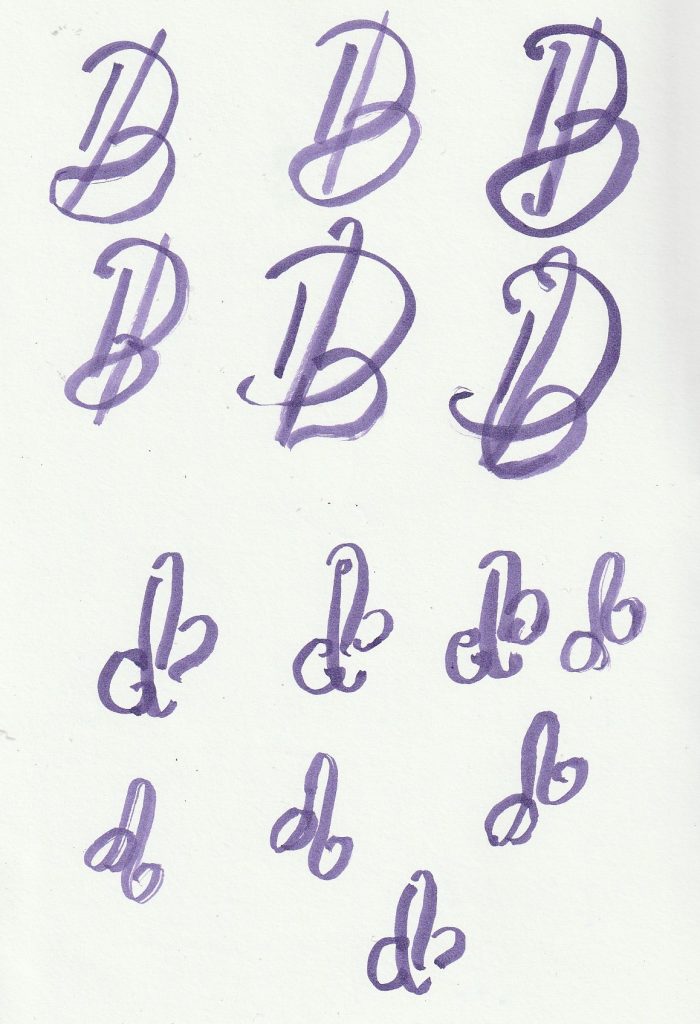 (below) I then used collage pieces to create the letterforms from paper, using scissors. I layered these on the page, considering the composition and negative space.
(Below, right) I wanted to see the effect water would have with the ink. I wet the page with water then drew the 'DB' with ink and the end of the paintbrush. Below this, I drew the Db with diluted ink. I like the softness of this.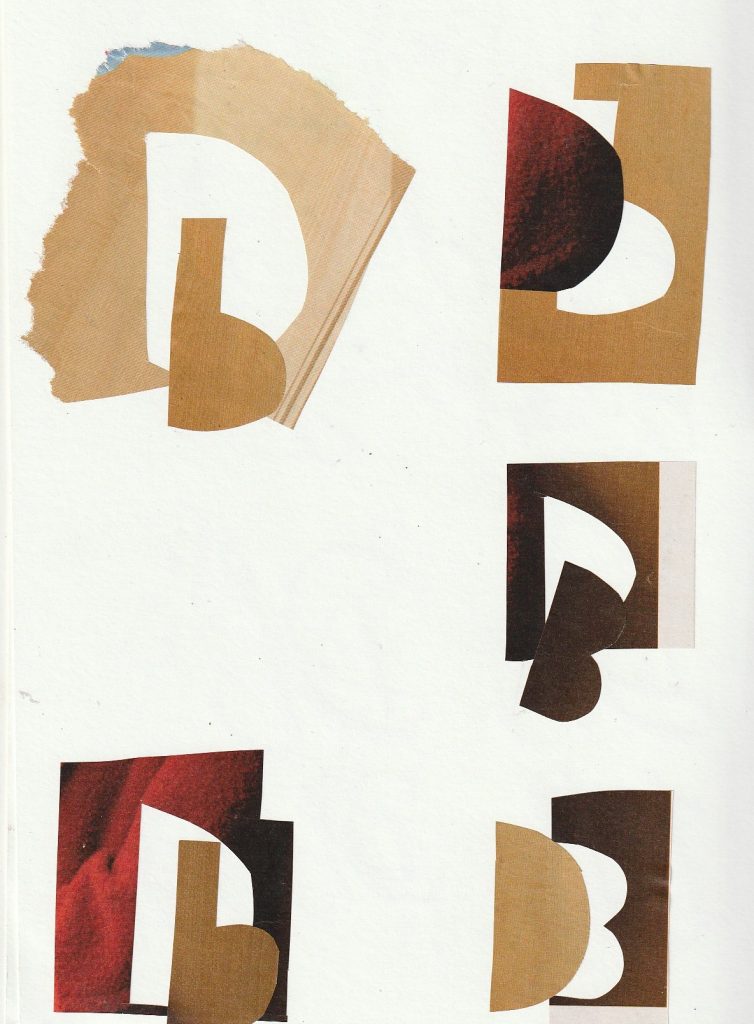 Digital Iterations
I scanned these experimentations and placed them into Adobe Illustrator.
I Image-traced them. For example, the grey monograms above were made by selecting 'shades of grey' and the darker monograms beneath were from selecting 'silhouette'. I then played with Effect > Stylize > Scribble. This gave the letterforms a rougher appearance.
On one monogram, I used a box to place the initials in and crop the edges off. I chose a square because I feel I have the square characteristics (from last week's workshop).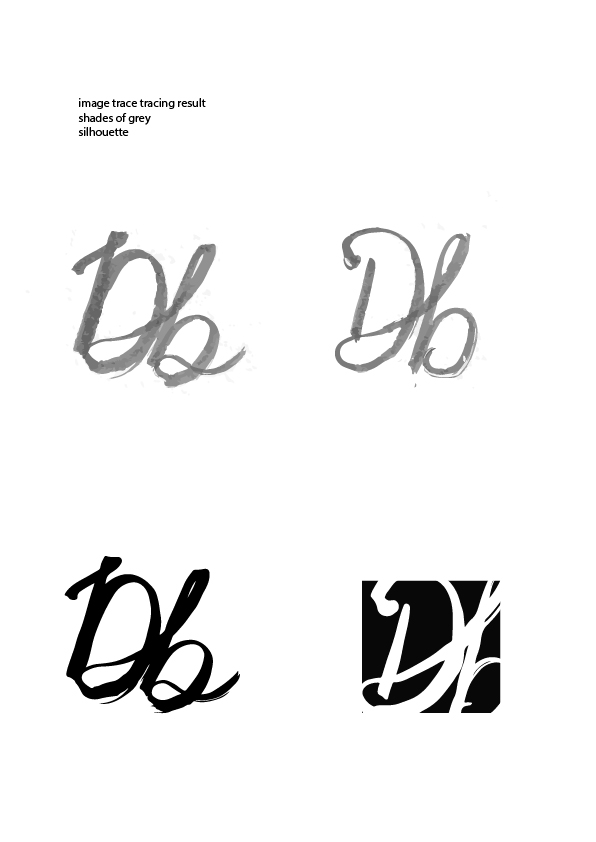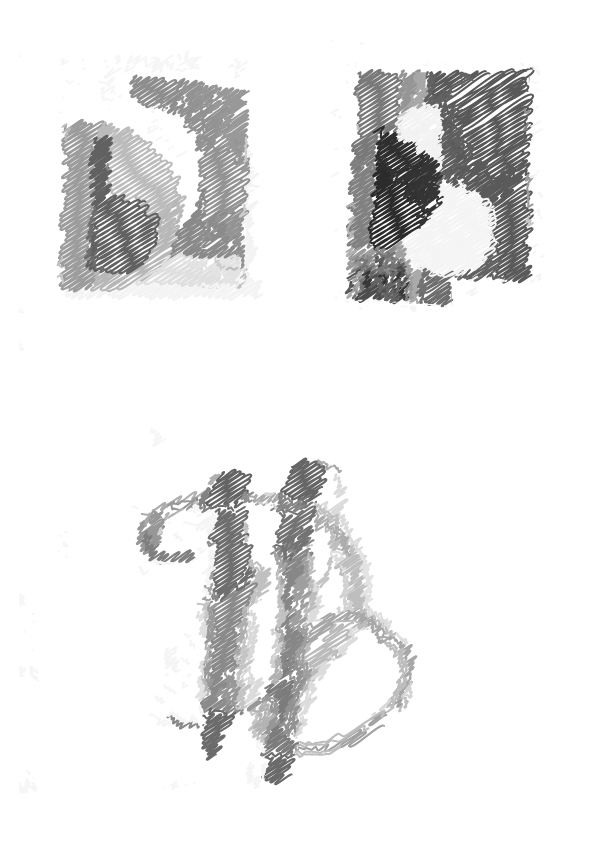 Sketchbook Logo shapes
Further experimentation with squares and circles.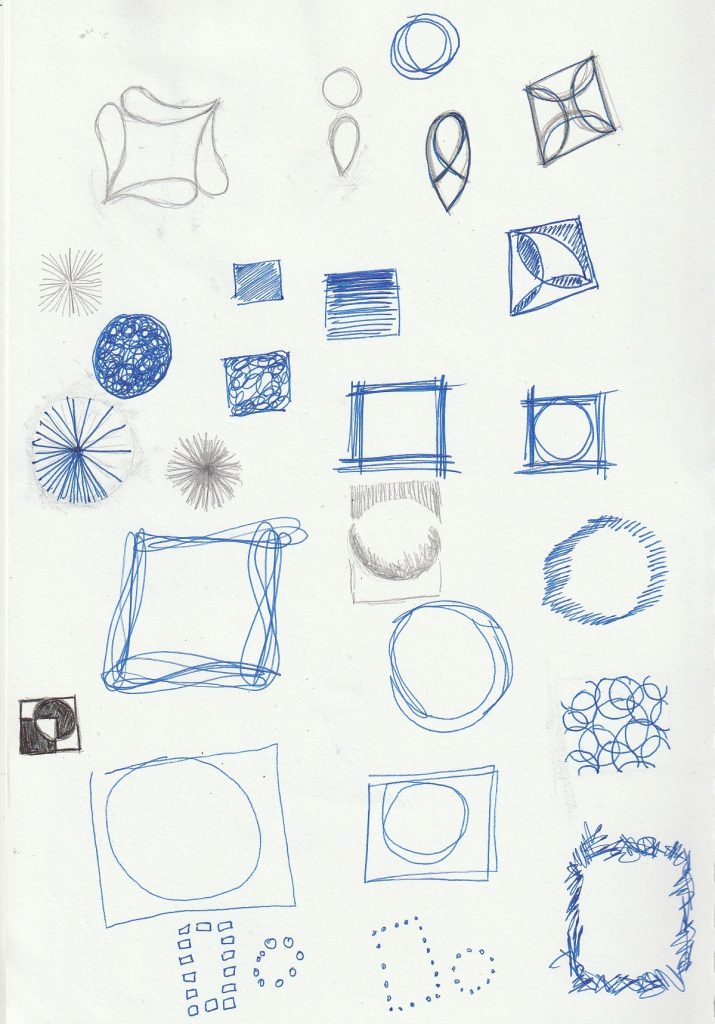 Contextual References
I looked at how designers have used shapes within their logo designs.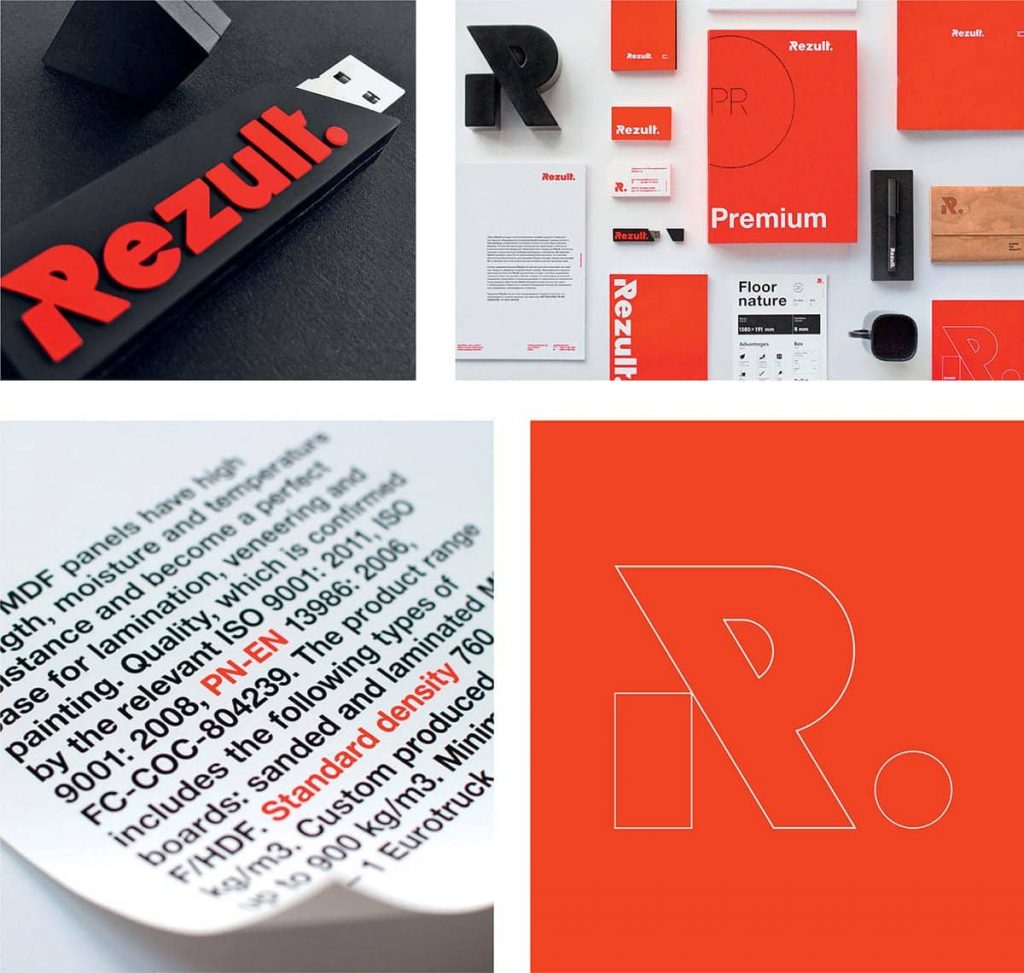 'Korosten MDF Plant in Ukraine is an environmentally friendly factory producing laminate flooring and medium-density fiberboard (MDF) panels.' In this example, Fedoriv have formed the 'R' using a rectangle as a separate shape to the rest of the letterform. It looks as though it is holding up the rest of the 'R'. This gives the impression of stability, reflecting the theme of construction.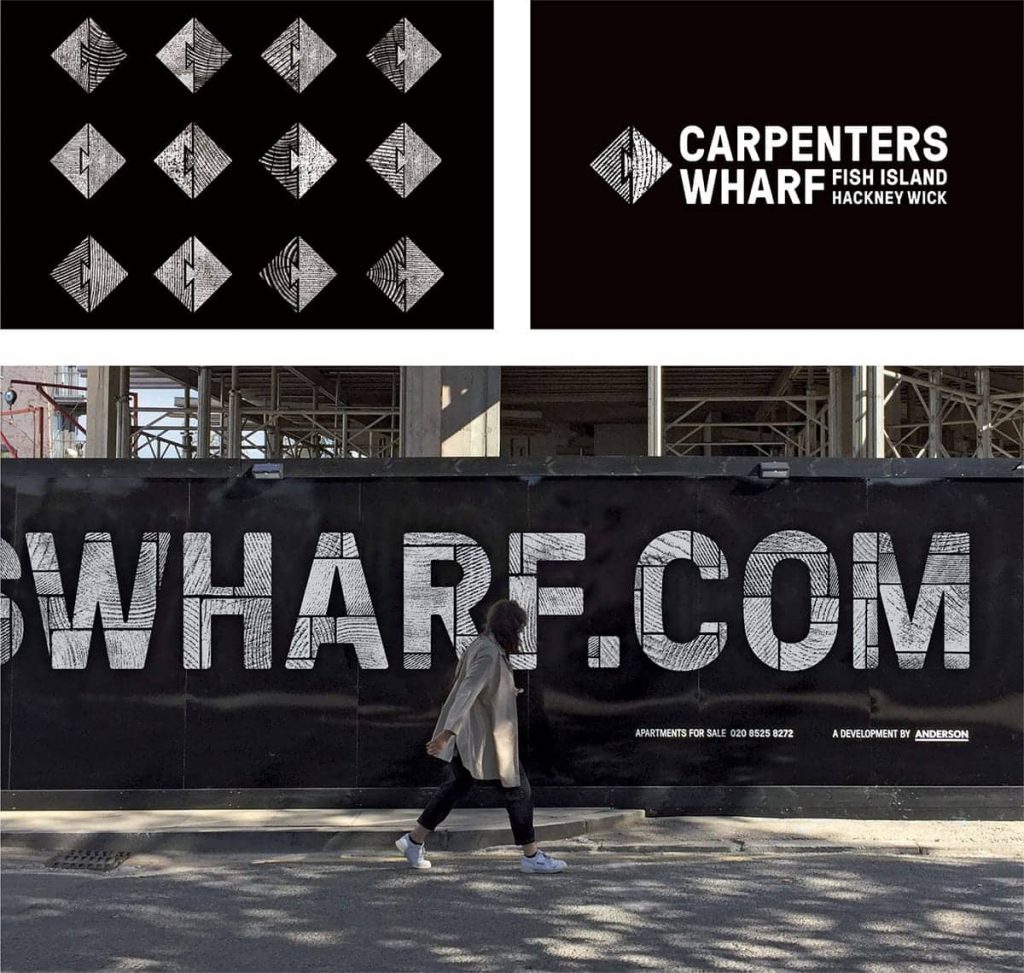 (Above) The squares are rotated and divided by a wood joint line. The texture of wood is key in the identity and is used within the square shape.
The square pattern looks like a kind of rectangular puzzle grid and is placed within the letterforms.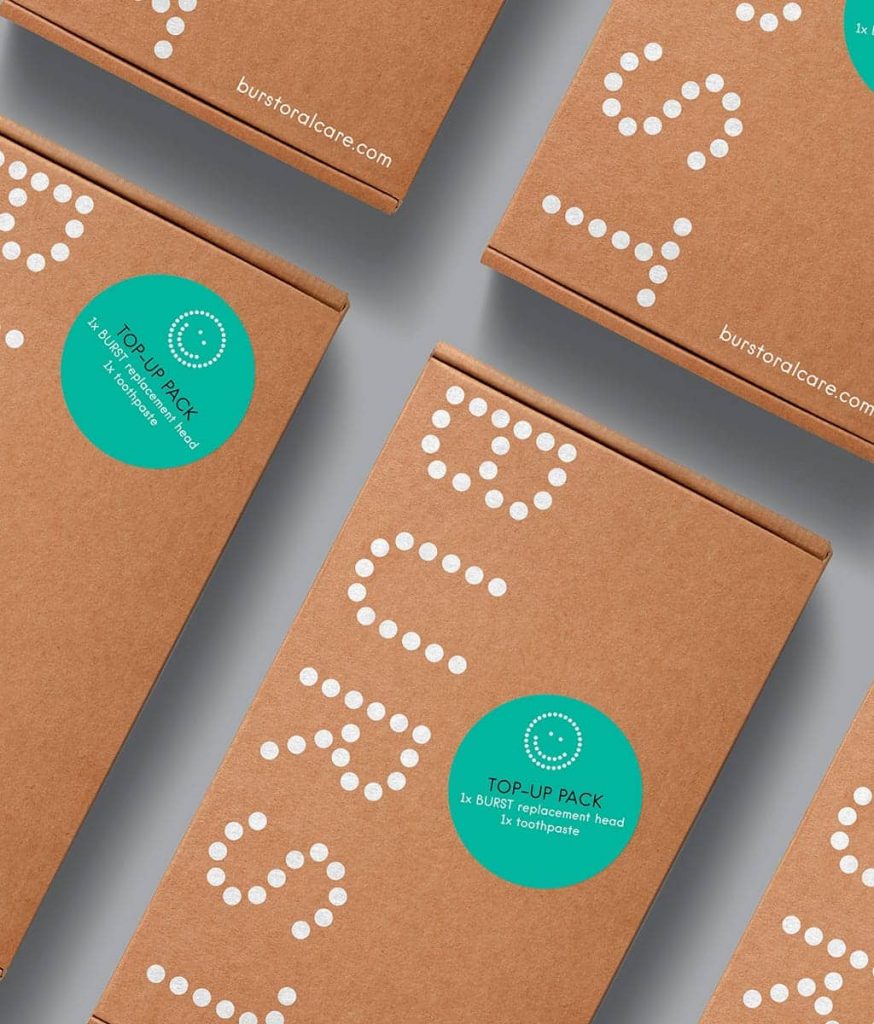 For the identity for this oral care brand, ico Design have constructed the letterforms from a repetition of circles.
From Letterhead Logo Design II (Rockport) by Design Army:
'We believe in simplicity. In fact, you could say that it's part of our identity. Our logo is a star. Our colors are red, brown, and mint green We use one typeface. It's simple, consistent, effective—all the things you'd expect from a powerful brand. Simplicity is perfection…Along the way, we confirmed what we already knew: It's the little thoughts that have the biggest impact.'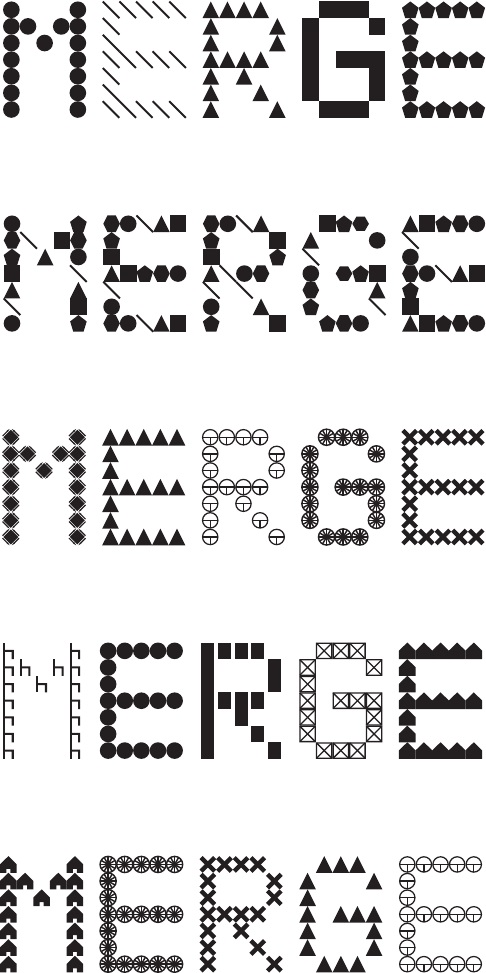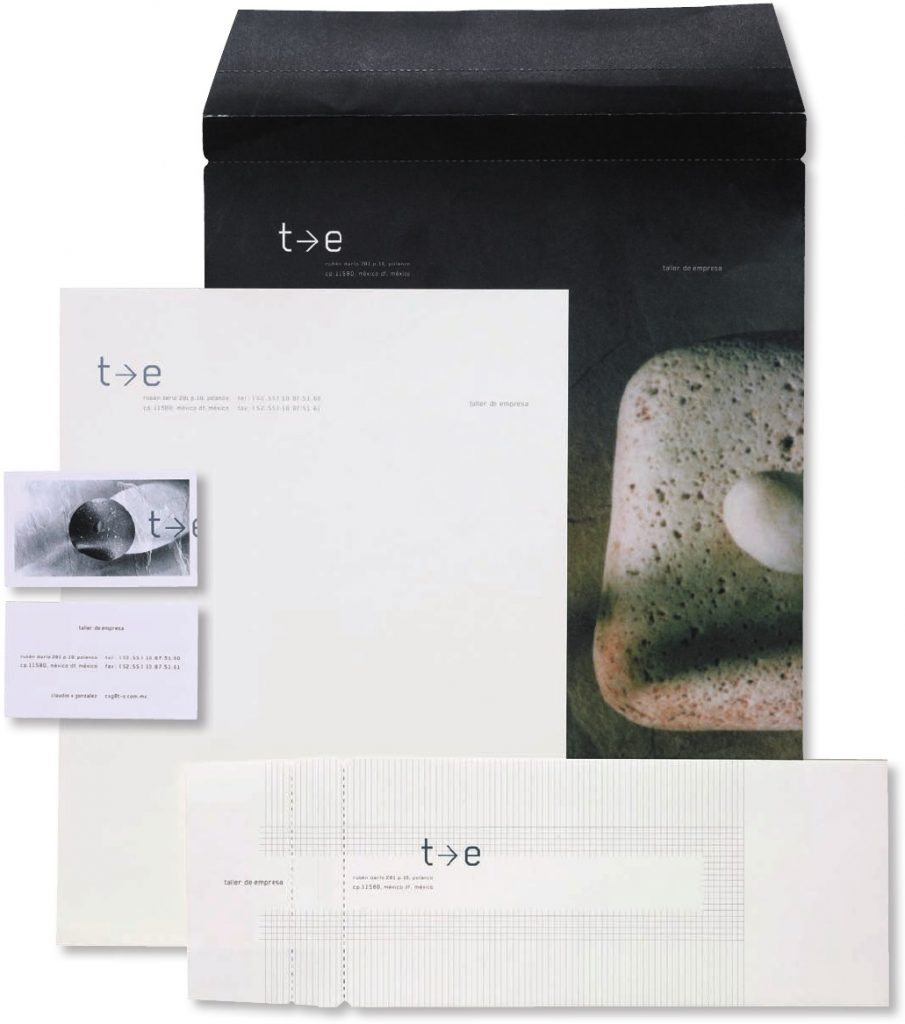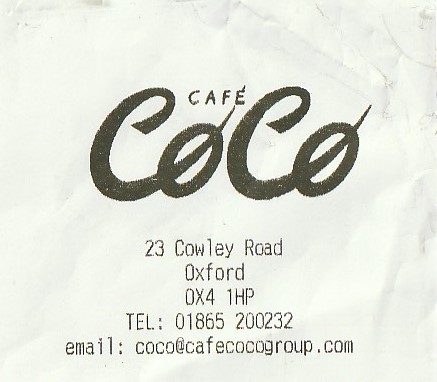 This receipt was from the cafe I ate at this week. I like the way the 'c' and 'o' have been entwined.
Below: The author's initials are combined to create this geometric monogram. The monogram is appropriate for the theme, since Douglas Adams is a science fiction writer.