The last time I tried my hand at lino-printing, I was working on the FMP (final major project) of my Art & Design diploma. That was in summer 2021. One year later, I'm returning to lino. I missed the carving sensation and the satisfaction of building a work methodically- Something I only learnt to appreciate after working on screen-printing at Oxford Brookes.
First I needed a subject. This wasn't hard, I've had my mind on buildings recently. I found this photo I took of Oxford castle (below). I Like the variety of elements: soft sky, crumbling brick castle, rushing river.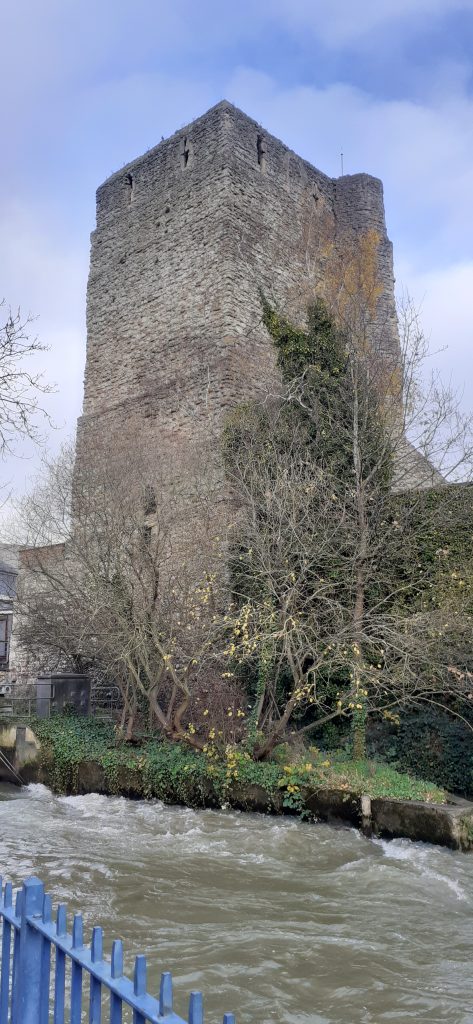 I reversed the image and posterised it using photoshop. Posterising the photo allowed me to view separate layers. Reversing it meant the print would end up the correct way around: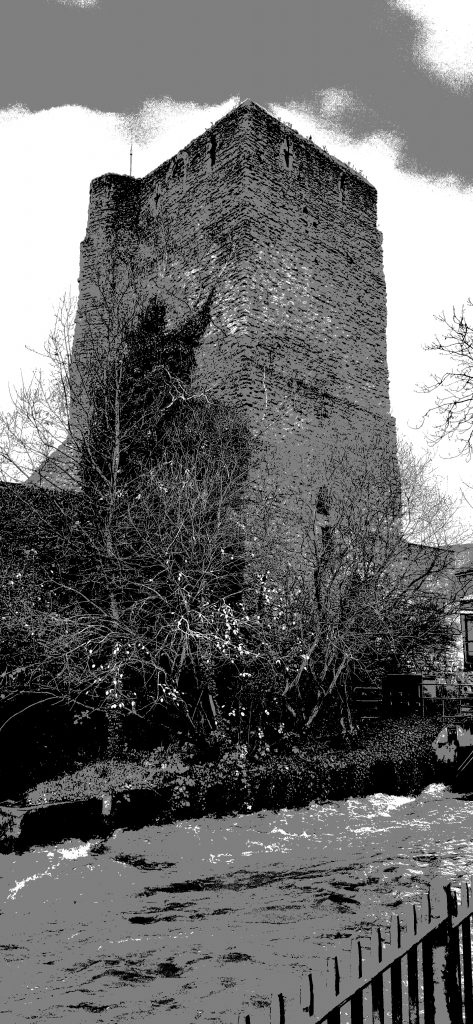 Then I got to work: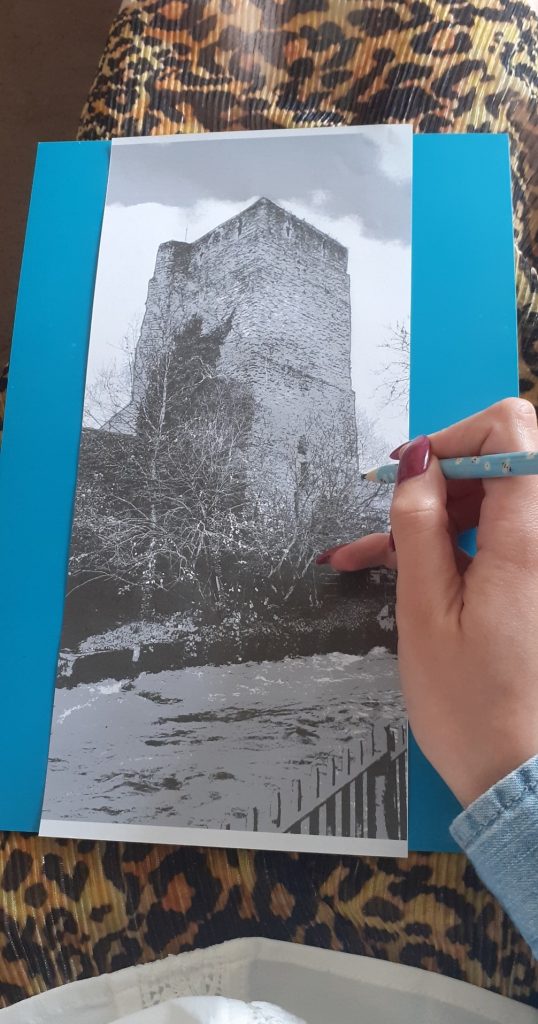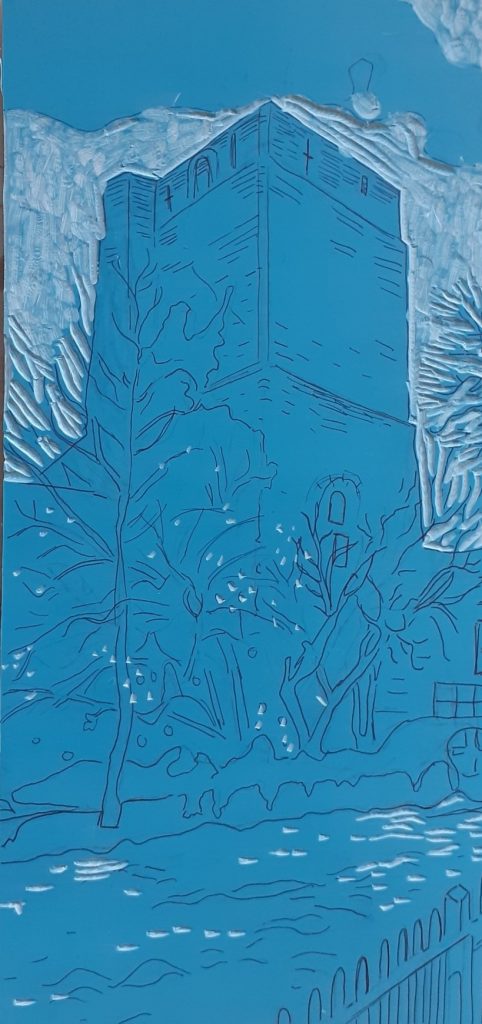 I chose the reduction technique to allow me to print more than one colour. I first carved the areas I wanted to stay white.
I then remembered to wash the lino with washing up liquid before printing with it.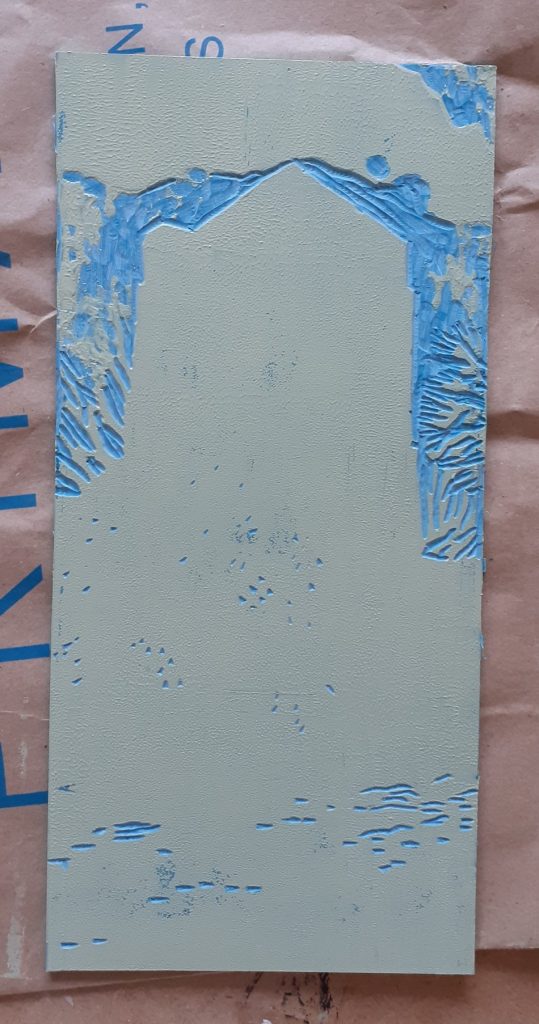 I mixed a cold-toned green for the castle and river. I kept the colour paler at this stage. I am using water-based block printing inks.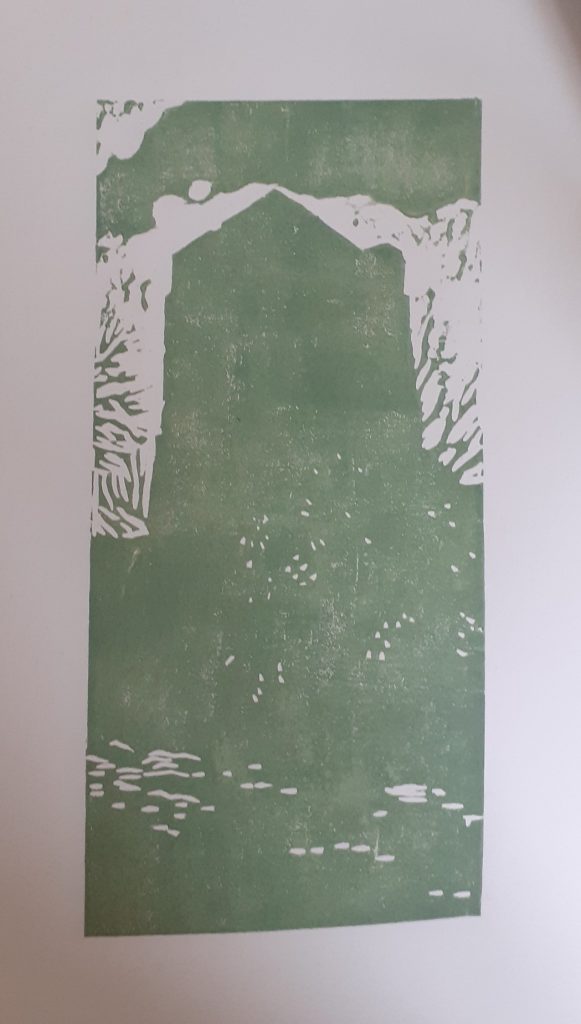 My first print. I can see I did not apply enough ink to the printing plate.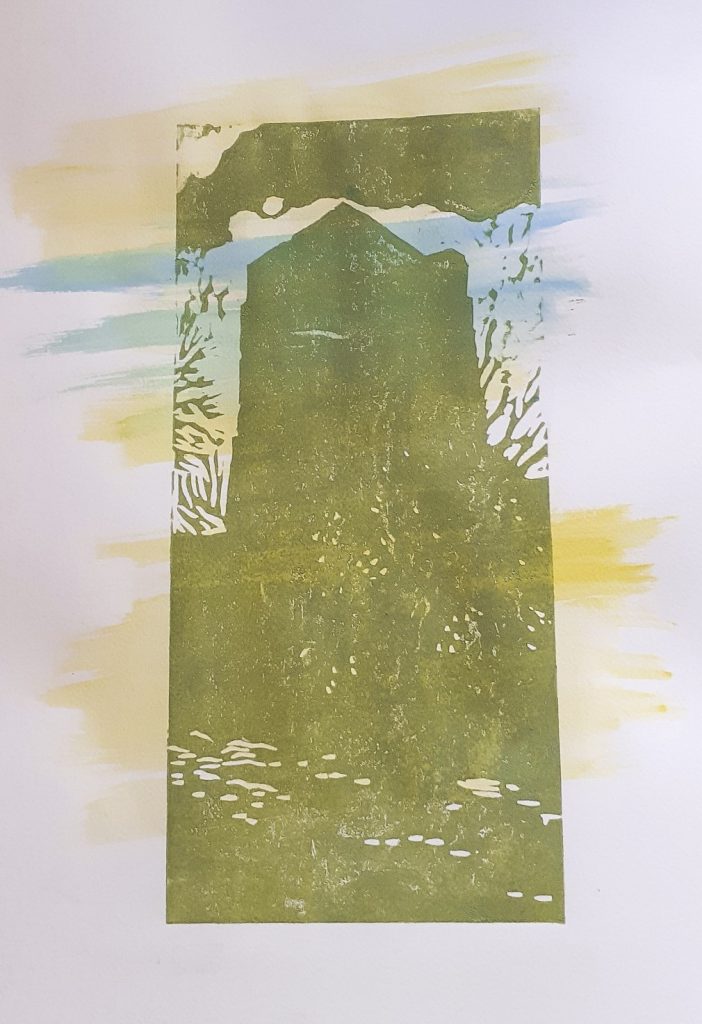 I left the first layers to dry for about 12 hours before printing the second layer.
(below) I did not align the 2 layers accurately.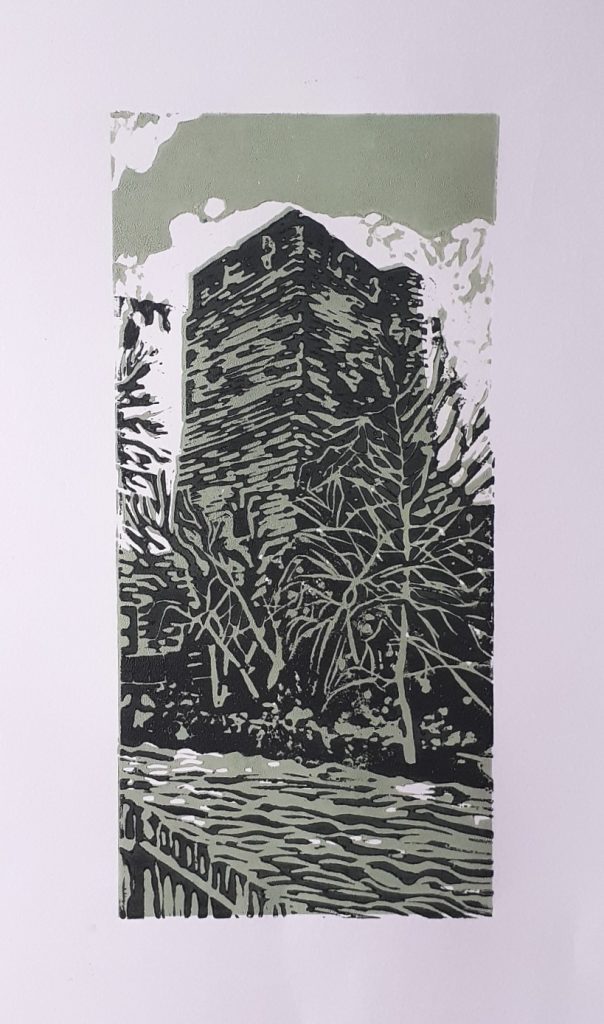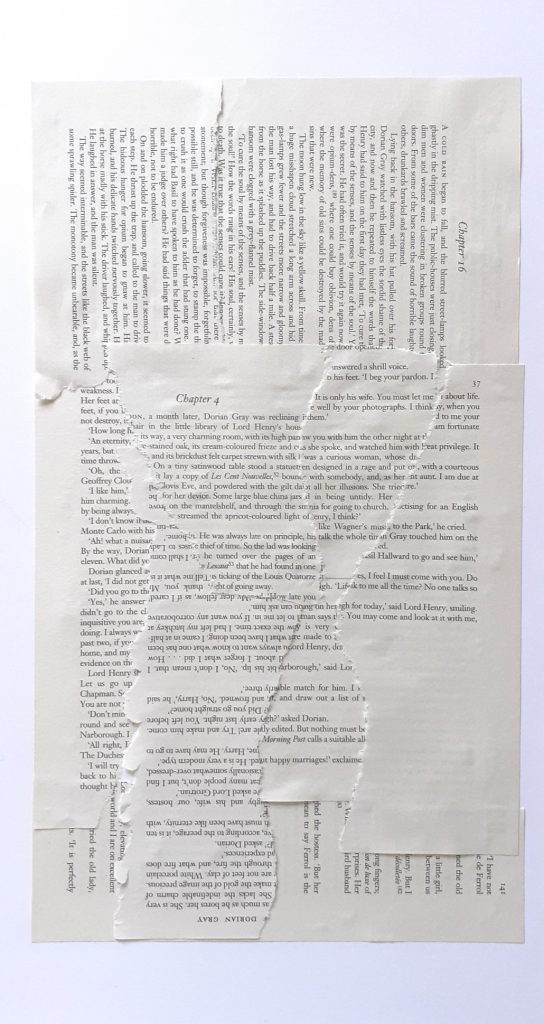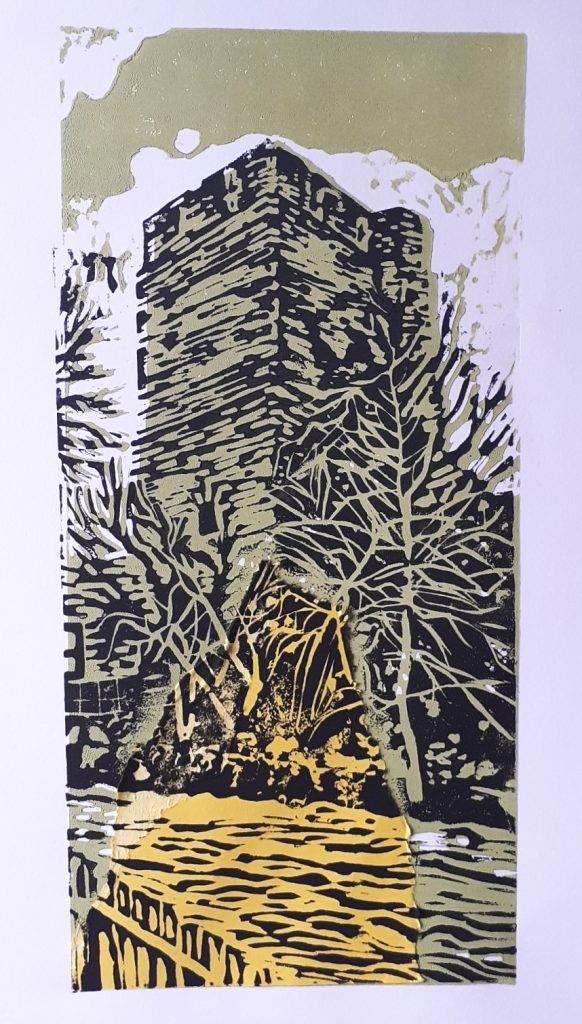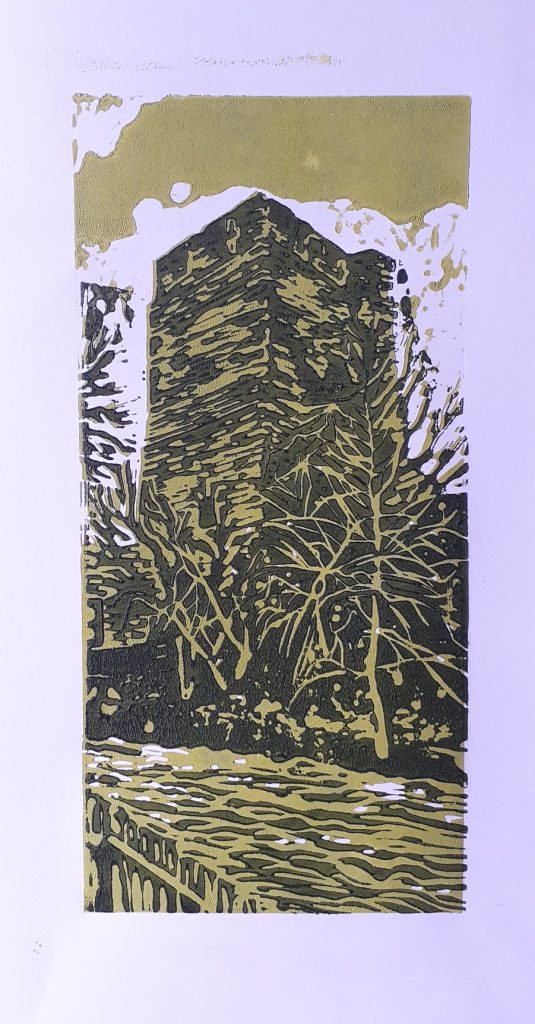 I mixed green into the ink for the darker layer, instead of the plain black used in other prints. I still wasn't getting the alignment spot-on, and I could see the paper was shifting as I laid it down.
Applying less pressure onto the roller helped when transferring the ink from the plate to the lino.
What worked and what didn't?
I need more practice/ a different method for aligning the paper.
The colours expressed something earthly which I liked.
The cartridge paper worked well.
I don't like the brick texture on the tower, I wasn't careful enough with my mark-making.
The watercolour background worked well.
I could have glued the collage background a bit more carefully.
I could work on simplifying/ improvising the design instead of including every detail from the photo.
Some details from the novel-background print: